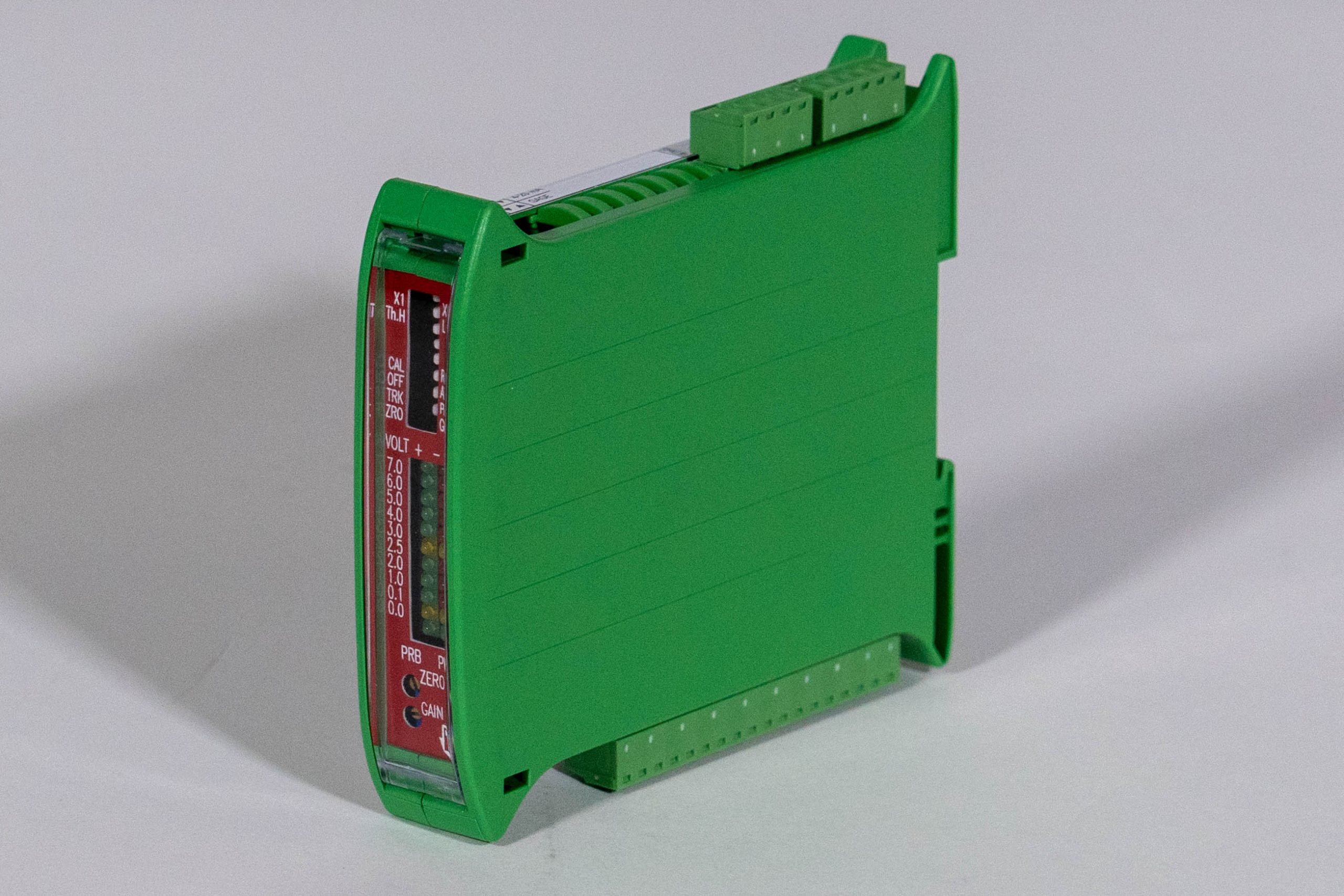 Critical Force Measurement with ZT-1 & ZT-4
The ZT tonnage load module is designed for critical force measurement applications where accuracy, extreme stability, and dependable noise rejection is essential. It is equipped with an LED bar-graph voltmeter for easy setup and diagnostic. The ZT is DIN rail mountable and is designed to interface with a PLC analog card and to display output through a human machine interface (HMI).
The ZT module is available in Single-Channel (the ZT-1 as pictured above) and in Four-Channels (the ZT-4 as pictured to the right).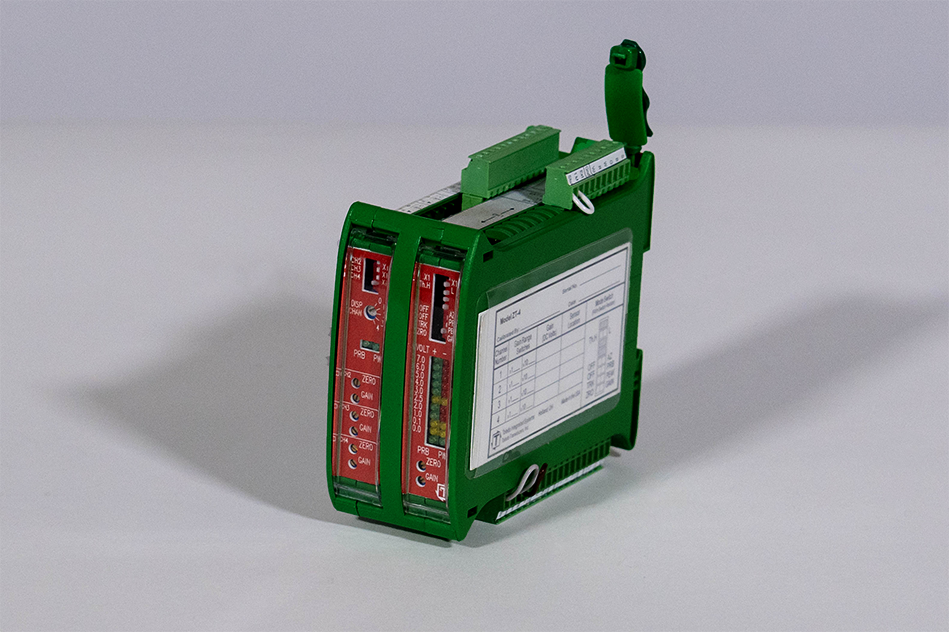 ZT-1
ZT-4
Designed to work with strain gauge
  sensors and load cells. The ZT
  can also accept input from 4-20mA
  current output sensors or voltage
  output sensors.
✓
✓
Simultaneously provides normal peak,
  reverse peak, and track voltage
  outputs.
✓
✓
Simultaneously provides normal peak,
  reverse peak, and track 0-20mA current
  outputs.
✓
 
Built-in threshold trigger simplifies
  installation. External probe trigger
  can also be used when situation
  required.
✓
✓
LED bar-graph voltmeter for easy setup
  and diagnostic.
✓
✓
Built-in 1 Mega Ohm calibration shunt
  resistor.
✓
✓
User selected external shunt resistor
  can be used for load cell applications.
✓
 
x1 and x10 amplifier gain ranges to
  work with either strong or weak signal
  from the load sensor.
✓
✓
Auto-Zero can be selected using dip
  switches to compensate for zeroing
  errors caused by environmental changes
  such as temperature, humidity, and etc.
✓
✓
Electrical noise rejection filter can
  be enabled when situation required.
✓
✓
Plug-in connectors for easy wiring and
  installation.
✓
✓
Standard DIN Rail mount simplifies
  systems integration.
✓
✓
Modular with common bus design allows
  future upgrade and expansion.
✓
✓
CE Certified
✓
✓
 
 
Transducers
Full bridge, 120 to 1000 ohms.
Sensor Excitation
Built in +10VDC at 250mA max.
Balance Range
+/- 1mV/V of sensor imbalance
Gain Ranges
Low range = x50 to x550 adjustable
High range = x500 to x5,500 adjustable
Calibration Shunt
Built-in 1 mega ohm (.1%),
or external custom shunt (ZT-1 only)
Output Range -
  Voltage
Normal Peak and Reverse Peak = 0 to 10VDC
Track output = -10 to +10VDC
Output Range -
  Current (ZT-1
  only)
Normal Peak and Reverse Peak = 0 to 20mA
Track output = -20 to +20mA
Circuit Inaccuracy
+/- .1% of full scale max.
Circuit
  Non-linearity
+/- .02% of full scale max.
Auto Zero
Time constant = 10 seconds. DIP switch selectable.
Frequency
  Response
DC to 5,000 Hz
Speed Limit
2000 SPM max. when triggered by External Probe
500 SPM max. when triggered by Internal Threshold
Operating
  Temperature
-4 to 158 degree F, or -20 to 70 degree C
Display
LED bar-graph voltmeter for setup and diagnostic
Trigger
Internal Threshold (.35V / .70V), or External Probe.
Probe Input
NPN/PNP proximity probes, solid state or dry contact relays. Built-in 24VDC at 80mA max. supplies power to the probe.
Input Power
24VDC at 300mA max. Automatic resettable fuse.
Mounting
Standard DIN Rail mount
| | | | |
| --- | --- | --- | --- |
|   | Width | Height | Depth |
| Dimensions (ZT-1) | 0.9 " | 4.1 " | 4.7 " |
| Dimensions (ZT-4) | 1.9 " | 4.1 " | 4.7 " |
| | | |
| --- | --- | --- |
| Name | Format | Link |
| ZT-1 User Manual | PDF | |
| ZT-4 User Manual | PDF | |
| ZT-1 PRE-Calibrated Load Cells Manual | PDF | |