Field Installation & Tonnage Calibration Services
Toledo Integrated Systems offers field installation and tonnage calibration services for new or existing tonnage monitors. We have excellent service technicians that have the experience you want when calibrating your press.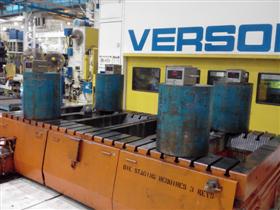 We use our self-contained A2LA certified AutoCells™ to calibrate your tonnage monitor. Having accurate tonnage can give you more than just peace of mind. It can help diagnose problems with your press such as gaping and snap-thru (reverse tonnage). Having accurate tonnage can also help prevent damage to your dies and press caused by hard hits.
We have experience calibrating tonnage for the following types of presses: