The SLIM is a resolver-based tonnage signature interface module that provides force measurement and signature analysis for critical force applications up to 800 spm.
The SLIM unit is designed and configurable for single action, double action and transfer presses.
Signature analysis can be used in determining the amount of force exerted throughout the press stroke. This can be especially useful in determining if the amount of stress on the press is happening too early in the stroke. It is important to know what tonnage is being developed and where in the press stroke it occurs.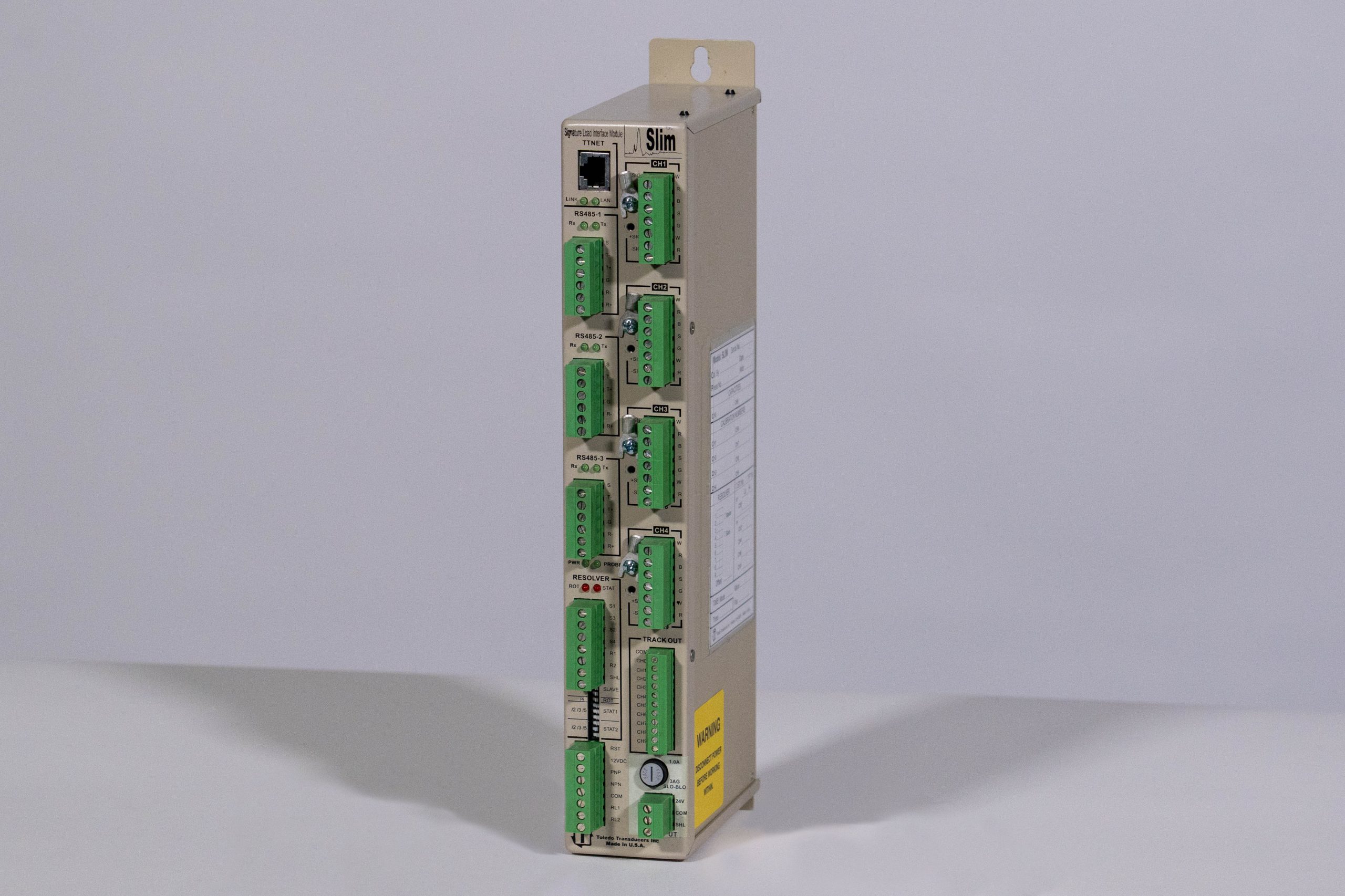 Every press manufacturer provides a press-rated tonnage curve and motion diagram, which can be uploaded into our SLIM monitor. This curve is then plotted against the actual tonnage signature and can be viewed through the user interface software, SlimWare.
The SLIM's onboard memory allows for operators/setup personnel to retrieve the last 25 signatures. Along with signatures, setpoints can be saved and loaded with each job. These setpoints include:
Capacity
CCM (Critical Curve Monitoring)
High Setpoint
Low Setpoint
High Enveloping (5-Zones)
Low Enveloping (5-Zones)
Reverse Setpoint
The SLIM can also interface with a wide variety of equipment ranging from the most sophisticated Allen-Bradley & Siemens programmable logic controllers (PLCs) through the use of OPC server/client tags, to standard personal computers (PCs) through the use of standard text files.

The SLIM unit also provides a standard option of data-logging. This option saves any alarm, setpoint or configuration change to a text file along with a timestamp and user ID. This can provide a detailed history of any alarms or changes made to the SLIM unit.

For a more detailed alarm history, our PressNet and MaxNet networking packages allow for detailed reporting by time, press, user and types of alarms.
The SLIM unit comes standard with the user interface software, SlimWare. This software can be installed on any desktop/industrial PC with the following operating systems:
Microsoft Windows 2000
Microsoft Windows XP
Microsoft Windows XP Embedded
Microsoft Windows Vista
Microsoft Windows 7
 
Standard
Option
Signal conditioning module for strain
  gauge sensors & load cells
✓
 
Four independent channels for
  accommodating up to eight sensors
✓
 
Uses full-bridge sensors from 120 Ohms
  to 1,000 Ohms
✓
 
Plug-in connectors are used for the
  sensor inputs
✓
 
High/low sensitivity span ranges
  selected with front panel switch
✓
 
Power input/output are plug-in
  connectors
✓
 
Built-in automatic peak load memory
  circuits
✓
 
Peak measurements are made with an
  external trigger device
✓
 
Built-in power supply for stable operation
  and noise rejection
✓
 
Compact size to fit almost any location
✓
 
Steel enclosure for maximum protection
  and noise rejection
✓
 
Automatic Zero Balance
✓
 
From one to eight sensor inputs, one or
  two per channel
✓
 
Analog output terminals
✓
 
CE Certified
 
✓
PLC Ladder Logic
 
✓
HMI Screen Program
 
✓
 
 
No. Of Channels
Two,Four,Six or Eight
Sensor Inputs
Full bridge strain gauge sensors
120 to 1000 ohms
Up to (16) 350 ohm sensors
Sensor Excitation
Built-in 10VDC @ 500mA max (Short circuit protected)
Sensor Input
  Connections
7-pin .2" pitch Phoenix connector
Auto-Zero Time
  Constant
N/A
Balance Range
+/- 1mV/V of offset
Gain Range
100-11,000x (digitally controlled)
Analog Output
1.25VDC @ Press Capacity
Analog Output
  Connection
11-pin .15" pitch Phoenix connector
Peak Delay
N/A
Accuracy
+/- 1% of full scale max
Non-linearity
+/- .1% of full scale max
Frequency
  Response
Flat DC to 6KHz
Resolution
Each channel provides a 4-digit load value in 1024 count resolution
SPM
800 SPM (resolver trigger)
Calibration Shunts
Calculation based on 1 Meg Ohm shunt resistor
Computer
  Interface
(3) RS-232/422 serial ports (38.4K - 460K baud)
Trigger
Resolver, Probe or Threshold
Threshold Probe
Built-in voltage source (12VDC @ 80mA max) provides power for NPN or PNP proximity probes. Also supports limit switch, solid state or mechanical relays
Resolver Interface
Built-in excitation supports standard
5000Hz rotor excited positional resolver
Shutdown Relay
8A @ 250VAC or 30VDC
N.O. Contact (N.C. Optional)
Bypass switch available
Power Req.
29 Watts max, 85-132VAC @ 50-60Hz OR
170-264VAC @ 50-60Hz
(Use .25" x 1.25" SLO-BLO fuse)
Expansion
Interface port for I/O module
Operating Temp.
0-70 degrees Celsius
Weight
Approximately 7.0lbs
| | | | |
| --- | --- | --- | --- |
|   | Width | Height | Depth |
| Dimensions | 2.125 " | 12.0 " | 5.0 " |
| | | |
| --- | --- | --- |
| Name | Format | Link |
| SLIM User Manual | PDF | |
| SlimWare V4 User Manual (SLIM-RV1) | PDF | |
| SlimWare V7.1 User Manual (SLIM-RV2) | PDF | |
| SlimWare V5 Demo | EXE | |
Type
Name
Description
Link
Standard Product
PM Kit
PM Kit includes strain gauge
  sensors, cables and mounting
  hardware
Standard Product
Resolver
Precise crank-angle position
  measurements
Standard Product
PressNet
Networking software that
  provides detailed production
  and tonnage information
Standard Product
TT-Graph
Signature analysis program that
  generates tonnage signatures
  and provides a simple approach
  for analyzing the signatures
Service
Installation
On-site product installation