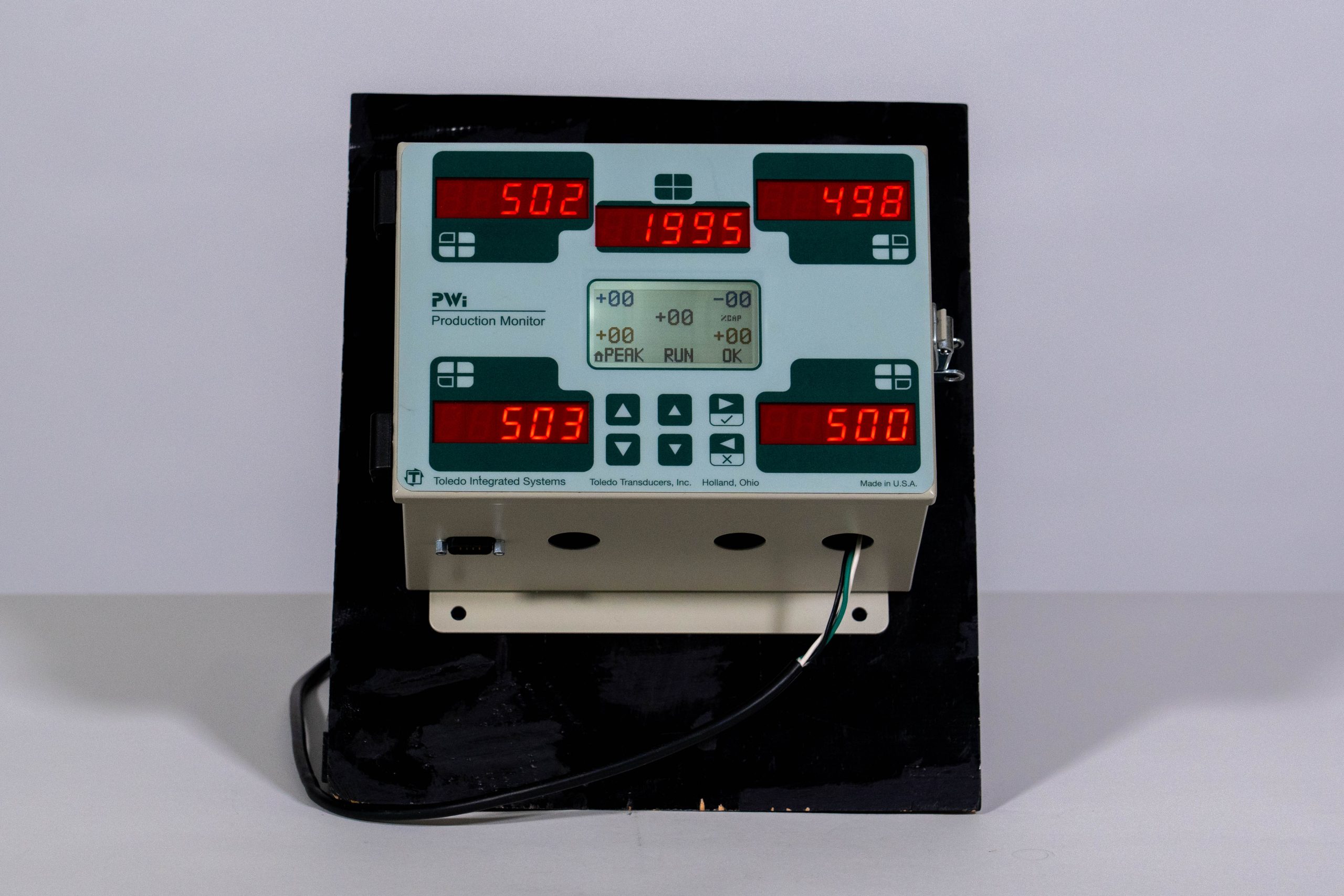 Full-Featured Monitor Providing Force Measurement for Press Protection Quality Control
The PWi production monitor is a cost-effective full-featured monitor that interfaces with load sensors to provide force measurement for press protection and quality control. The PWi is capable of monitoring up to 8 channels. Each channel and the total is displayed on high-visibility 5-Digit LED displays.
The LCD graphic display provides a user-friendly menu system. The layout of the menus and data on the 7-segment LED displays and the center LCD screen are designed to be highly intuitive and require little explanation.
 
Standard
Option
2 channel load monitoring
✓
 
4 channel load monitoring
✓
 
8 channel load monitoring
 
✓
LCD graphic display with back-lighting
✓
 
5-digit LED display for each channel
✓
 
Menu-driven user interface
✓
 
LCD displays time based tonnage
  signatures
✓
 
Reverse load display and limit
✓
 
2 shutdown relays (Top-Stop and
  E-Stop)
✓
 
Stores 100 jobs
✓
 
One RS422 serial port
✓
 
PressNet software compatible
✓
 
Automatic zero balance
✓
 
Compact dust-proof enclosure
✓
 
DC version is compliant with European
  CE standards
 
✓
Resolver based tonnage signatures
 
✓
Resolver input for CCM (Critical Curve
  Monitoring)
 
✓
2 additional RS422 serial ports
 
✓
Mounting bracket for angle viewing
 
✓
 
 
No. Of Channels
Two, Four or Eight
Sensor Inputs
Full bridge strain gauge sensors
Analog Output
.25" stereo phono jack
2.5VDC @ Press Capacity
Display
Back-lit 1.5"x2.75" LCD graphical display (64 x 128 pixel)
(5) Led displays, each consisting of five 7-segment displays
Keypad
Menu-driven keypad consisting of six tactile switches
Job Storage
100
Resolution
Each channel provides a 5-digit load value
Serial Port 1
RS422(9,600 to 115,200 baud) for PressNet software interface
Serial Port 2 & 3
RS422 (9,600 to 115,200 baud) for data transfer
Probe Input
Built-in voltage source provides power for the probe. It supports
NPN/PNP proximity probes, and solid state or dry contact relay.
Shutdown Relays
Top Stop relay and E-Stop relay
Mechanical relay with N.O. and N.C. contacts
| | | | |
| --- | --- | --- | --- |
|   | Width | Height | Depth |
| Dimensions | 8.9 " | 6.88 " | 5.0 " |
Type
Name
Description
Link
Standard Product
PM Kit
PM Kit includes strain gauge
  sensors, cables and mounting
  hardware
Standard Product
Resolver
Precise crank-angle position
  measurements
Standard Product
PressNet
Networking software that
  provides detailed production
  and tonnage information
Standard Product
TT-Graph
Signature analysis program that
  generates tonnage signatures
  and provides a simple approach
  for analyzing the signatures
Service
Installation
On-site product installation