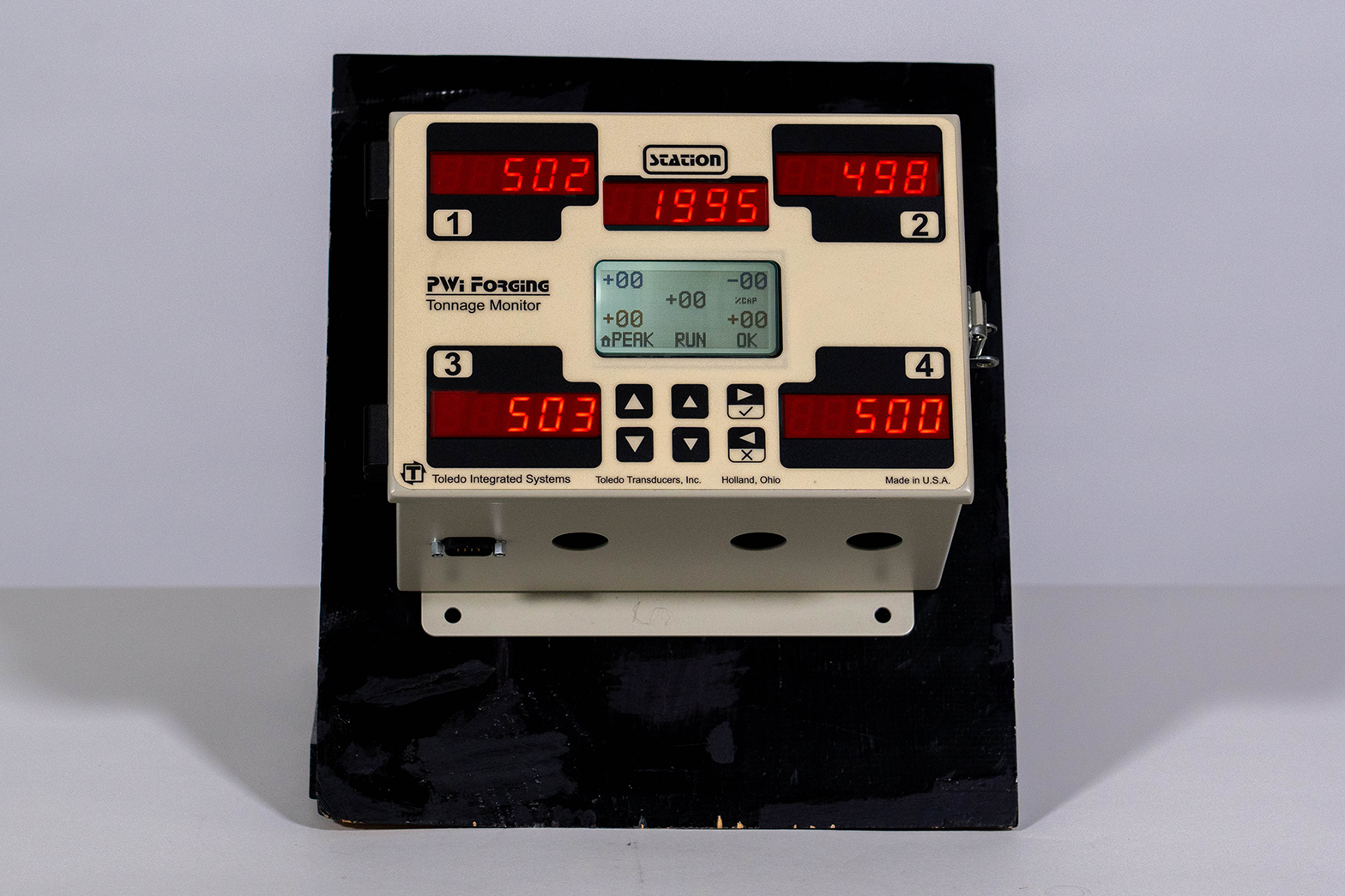 The PWi Forging instrument monitors multiple press tonnages during the forming of a single part.
The forming tonnage for up to four unique die stations can be displayed and each station has it's own set of tonnage limits. Each set of tonnage limits is based on a benchmark value unique to the station using the convenience of AUTO-SET. The PWi Forging monitor displays the forming tonnage for each station sequentially.
Station #1 shows the tonnage developed in the Buster operation. Station #2 shows the tonnage that is generated in the Blocker operation and so on up to four stations. Once the sequence is completed, the forging monitor assumes that a new part is starting and returns to Station #1 again. Time based (standard) and resolver based (optional) tonnage signatures are viewed on the LCD screen, along with tonnage limit settings, alarm history, job storage, deviation and more.
 
Standard
Option
Monitor up to four stations
✓
 
Reverse Load Display
✓
 
Signature Analysis - Time Based
✓
 
Resolver Input For CCM
 
✓
Menu-Driven User Interface
✓
 
(2) Shutdown Relays (Top & Immediate)
✓
 
100 Job Storage
✓
 
(1) RS422 / (PressNet)
✓
 
Ethernet Port
 
✓
PressNet V5 Compatible
✓
 
120VAC Input Power
✓
 
24 VDC Input Power (DC version is
  compliant with European CE standards)
 
✓
 
 
No. Of Channels
Two, Four or Eight
Sensor Inputs
Full bridge strain gauge sensors
Analog Output
.25" stereo phono jack
2.5VDC @ Press Capacity
Display
Back-lit 1.5"x2.75" LCD graphical display (64 x 128 pixel)
(5) Led displays, each consisting of five 7-segment displays
Keypad
Menu-driven keypad consisting of six tactile switches
Job Storage
100
Resolution
Each channel provides a 5-digit load value
Serial Port 1
RS422(9,600 to 115,200 baud) for PressNet software interface
Serial Port 2 & 3
RS422 (9,600 to 115,200 baud) for data transfer
Probe Input
Built-in voltage source provides power for the probe. It supports
NPN/PNP proximity probes, and solid state or dry contact relay.
Shutdown Relays
Top Stop relay and Immediate Stop relay
(Mechanical relay with N.O. and N.C. contacts)
 
 
No. Of Channels
Two, Four or Eight
Sensor Inputs
Full bridge strain gauge sensors
Analog Output
.25" stereo phono jack
2.5VDC @ Press Capacity
Display
Back-lit 1.5"x2.75" LCD graphical display (64 x 128 pixel)
(5) Led displays, each consisting of five 7-segment displays
Keypad
Menu-driven keypad consisting of six tactile switches
Job Storage
100
Resolution
Each channel provides a 5-digit load value
Serial Port 1
RS422(9,600 to 115,200 baud) for PressNet software interface
Serial Port 2 & 3
RS422 (9,600 to 115,200 baud) for data transfer
Probe Input
Built-in voltage source provides power for the probe. It supports
NPN/PNP proximity probes, and solid state or dry contact relay.
Shutdown Relays
Top Stop relay and Immediate Stop relay
(Mechanical relay with N.O. and N.C. contacts)
Type
Name
Description
Link
Standard Product
PM Kit
PM Kit includes strain gauge
  sensors, cables and mounting
  hardware
Standard Product
Resolver
Precise crank-angle position
  measurements
Standard Product
PressNet
Networking software that
  provides detailed production
  and tonnage information
Standard Product
TT-Graph
Signature analysis program that
  generates tonnage signatures
  and provides a simple approach
  for analyzing the signatures
Service
Installation
On-site product installation