The LS-ZT (Load Signature) Series is one of the most advanced and complete production monitors on the market today.
The LS-ZT Series provides tonnage and signature features that help ensure press, die and part protection. The operator interface is a computer screen that provides color signatures to be displayed right at the press.
Enveloping and Critical Curve monitoring (CCM) are part of the standard signature software. We also provide a solution if you are interested in combining die protection and programmable limit switches (PLS) with your LS Series tonnage monitor.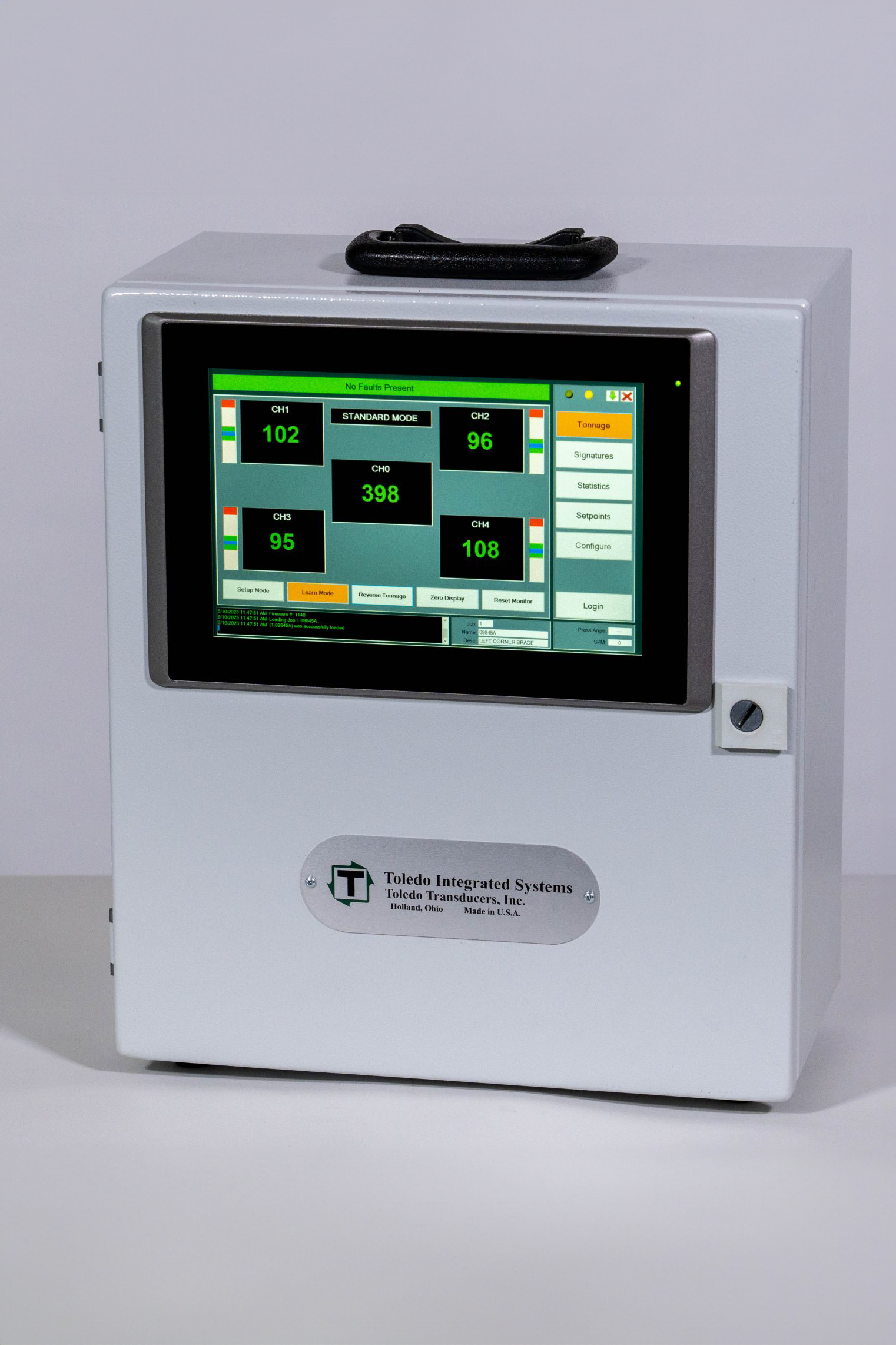 Standard
Option
Two or four channel display, plus total
✓
 
Six or eight channel display, plus total
 
✓
Independent left/right, high/low limits
✓
 
Signatures for each press corner & total
✓
 
Critical Curve monitoring (CCM)
✓
 
Signature enveloping
✓
 
Five signature zones for enveloping
✓
 
Percent of benchmark setpoints
✓
 
Percent of capacity setpoints
✓
 
Shows reverse load or snap-through
✓
 
Stroke, part, good part & batch
  counters
✓
 
Can view count left in batch
✓
 
Low alarms may be disabled
✓
 
Automatic Zero Balance
✓
 
Shows die/job summary information
✓
 
Target tonnage die storage, up to 200
  jobs
✓
 
Three password levels
✓
 
Shows strokes per minute
✓
 
Can bypass an individual corner
✓
 
Flash card for memory & data transfer
✓
 
Two or four sensor inputs
✓
 
Analog output jacks
✓
 
RS-485/232 serial port
✓
 
Auto-Learn
 
✓
Door Lock
 
✓
Counterbalance control
 
✓
Shut-height indicator
 
✓
 
 
No. Of Channels
Two, Four or Eight
Sensor Inputs
Full bridge strain gauge sensors
120 to 1000 ohms
Up to (8) 350 ohm sensors
Sensor Excitation
Built-in 10VDC @ 500mA max (Short circuit protected)
Balance Range
+/- 1mV/V of offset
Gain Range
100 to 11,000x (digitally controlled)
Analog Output
1.25VDC at 2.5VDC Press Capacity
Accuracy
+/- 1% of full scale max
Non-linearity
+/- .1% of full scale max
Frequency
  Response
Flat DC to 1KHz
Display
4 digit display
Resolution
1024 count
SPM
400 SPM resolver
Computer
  Interface
(3)RS-485/232
Trigger
Resolver
Threshold Probe
N/A
Resolver Interface
Yes, 5000Hz rotor resolver
Shutdown Relay
10A @ 250VAC & 30VDC
N.O. and N.C. Contacts
Power Req.
70 Watts max, 85-132VAC @ 50-60Hz OR
170-264VAC @ 50-60Hz
| | | | |
| --- | --- | --- | --- |
|   | Width | Height | Depth |
| Dimensions | 12.5 " | 14.5 " | 6.8 " |
Type
Name
Description
Link
Standard Product
PM Kit
PM Kit includes strain gauge
  sensors, cables and mounting
  hardware
Standard Product
Resolver
Precise crank-angle position
  measurements
Standard Product
PressNet
Networking software that
  provides detailed production
  and tonnage information
Standard Product
TT-Graph
Signature analysis program that
  generates tonnage signatures
  and provides a simple approach
  for analyzing the signatures
Service
Installation
On-site product installation