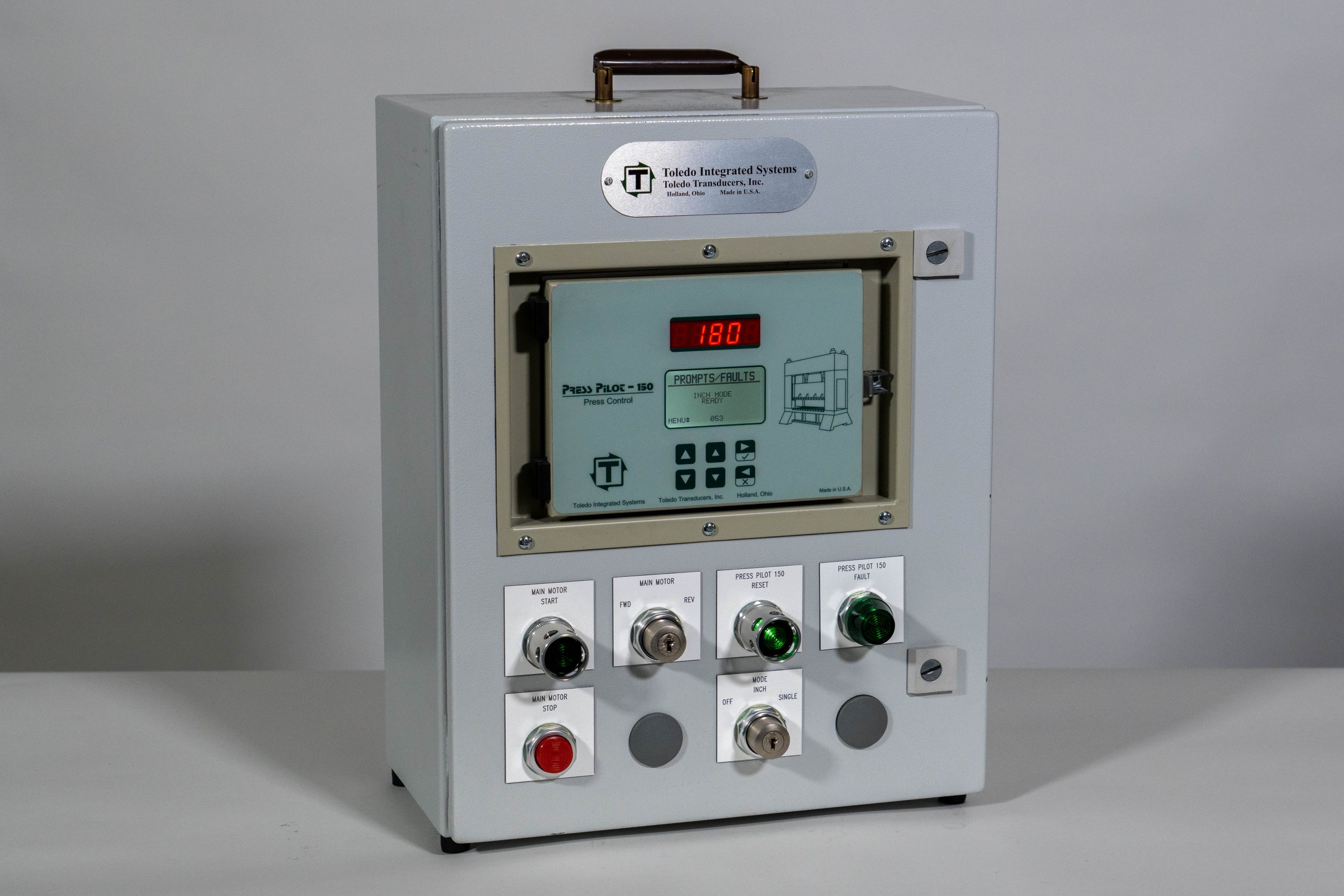 Dual processors provide the necessary redundancy and control reliability you need.
The Press Pilot 150 Series of clutch/brake controls allows your production to fly, knowing there is a reliable way to bring it back down to a safe stop.  This system controls basic clutch/brake functions on part revolution, mechanical stamping presses. The Press Pilot 150 Series meets and exceeds ANSI B11.1, OSHA 1910.217 and CAN/CSA-Z142-02 standards.

As with all Toledo Integrated Products, our Basic Press Control is engineered and manufactured in the United States in Holland, Ohio.
 
Standard
Option
Dual processor w/watchdog circuit
✓
 
Anti-tie down protection
✓
 
Anti-repeat protection
✓
 
Dual channel monitored E-stop circuit
✓
 
Protected memory (each processor)
✓
 
Time based brake monitor
✓
 
90° brake monitor stop test
✓
 
Off, inch, single & continuous modes
✓
 
Auto-single & COD (continuous on
  demand) mode
✓
 
Clutch & counterbalance air pressure
  monitoring
✓
 
Up to four (4) operator stations
✓
 
Press position verified each cycle
✓
 
Resolver, encoder or cam based
✓
 
Speed compensated top-stop
✓
 
Top stop overrun protection
✓
 
Uncommand motion & drift detection
✓
 
Clutch valve fault monitor input
✓
 
7 line by 20 character keypad display
✓
 
Position, SPM or counter LED display
✓
 
Counters (batch & stroke)
✓
 
120 VAC or 24VDC E-stop circuit
✓
 
Light curtain interlocks
✓
 
Auxiliary immediate & top-stop inputs
✓
 
PNP or NPN inputs
✓
 
Input status diagnostics
✓
 
Prox kit
✓
 
Allows for resolver "slave mode"
✓
 
Binary fault/prompt message outputs
✓
 
Ethernet Communications
 
✓
Remote display
 
✓
Flush mount kit
 
✓
Light curtain (mute on upstroke)
 
✓
CE Certified (24VDC input power only)
 
✓
| | |
| --- | --- |
|   |   |
| Input Voltage | 120 VAC (24VDC optional) |
| Communications | Binary (Ethernet optional) |
| Max Speed | 1000 SPM |
| Resolution | 1 Degree |
| Position Input | Resolver, Encoder or Cams |
| Warranty | 1 Year |
Type
Name
Description
Link
Standard Product
Remote Display
Display current status/faults of
  the PP150 from a remote
  location
Inquire
Standard Product
Prox Kit
All Press Pilot 150's come
  standard with a prox kit
Inquire
Standard Product
Resolver
Precise crank-angle position
  measurements
Standard Product
1662 Encoder
Encoder
Inquire
Standard Product
1663 Encoder
Encoder & 2 cams
Inquire
Standard Product
1673 Encoder
Encoder & 4 cams
Inquire
Standard Product
Run Bar
Operator run bar
Inquire
Standard Product
Run Stand
Mounting the run bar
Inquire
Standard Product
Foot Switch
Operator foot switch
Inquire
Standard Product
Safety Valves
Herion or Ross safety valves
Inquire
Service
Installation
On-site product installation