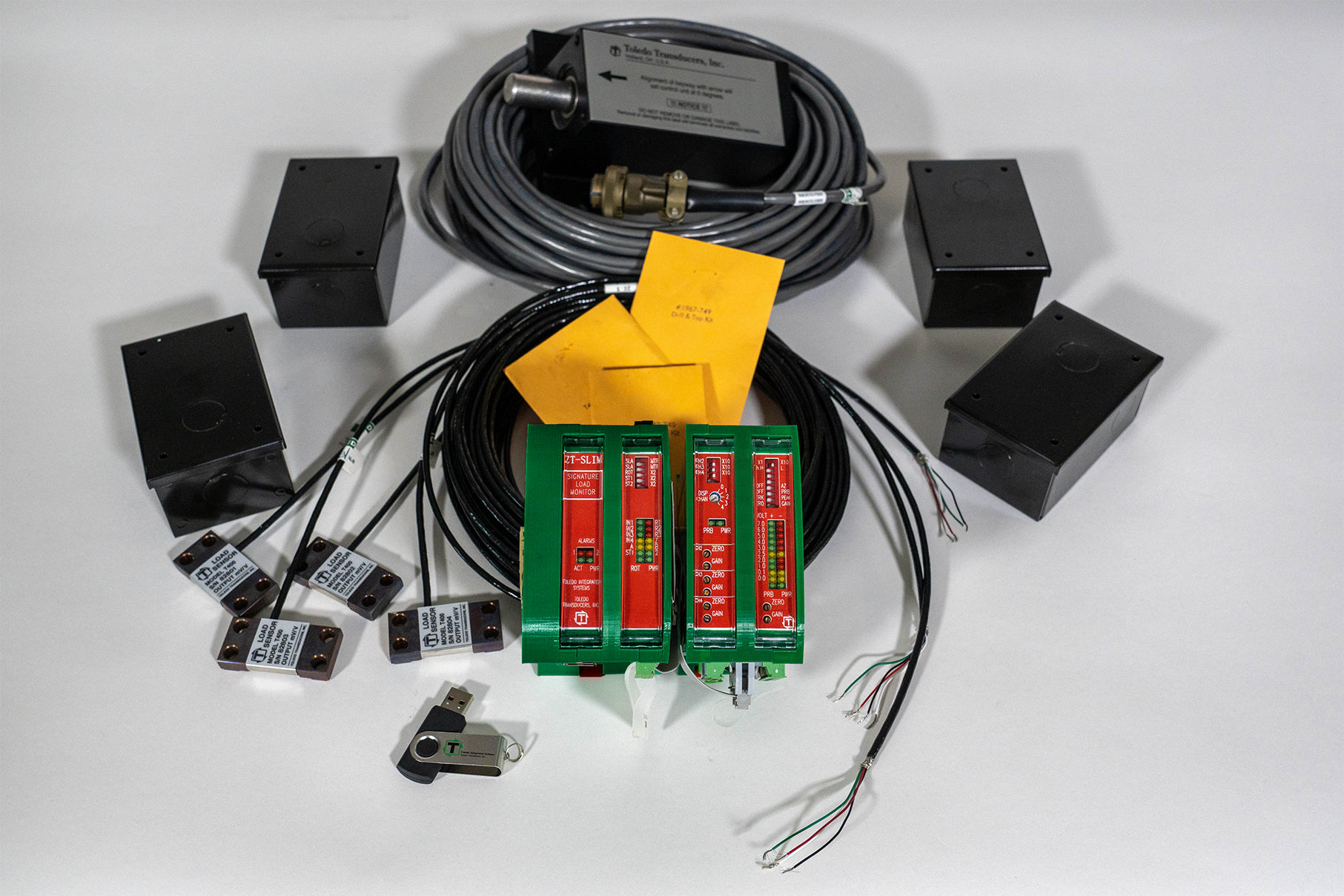 The Signature Tonnage Kit provides peak tonnage information for a variety of PLCs.
Allen Bradley CompactLogix or ControlLogix PLCs using our ZTSLM-4 module, PM Sensor Kits, communication cable and application software (PLC and PanelView Plus).The Signature Tonnage Kit also includes SLIMWARE signature software that can be run on an industrial PC at the press or installed on a lap top computer.

The software packages include the following features and information listed below.
Information displayed on the PanelView Plus operator screen:
Four corner & total tonnage display

Four corner & total tonnage signature displays (with enveloping)

Four corner & total reverse tonnage

High and low set points

Five adjustable enveloping zones

Master signature overlay capability

Benchmark tonnage

Percent deviation

Capacity alarms

Signatures with 1° resolution

Resolver position and calibration

Ability to bypass individual sensors

CCM (Critical Curve Monitoring)
Ability to bypass individual sensors

CCM (Critical Curve Monitoring)

Configurable stop relay (Top stop or immediate stop)

Job/recipe storage (job parameters are available to be stored in the PLC or on the PC with SLIMWARE)

Alarm info. (# of capacity, highest load, # high alarms, last high alarm, lowest load, # low alarms, last low alarm, # of reverse)

Tonnage calibration

Max SPM is 800 (graphic update will be less)

Last 25 signatures stored in ZTSLM-4 (FIFO)

Single acton and servo press

Ability to manually save 100 master signatures (1 per job)

Tonnage Hard Hit signatures (100) are automatically stored (FIFO)

Bluetooth communication to ForceView - available soon
Additional information / features available with SLIMWARE*:
Ability to manually save signatures to a file on PC at any time
Log file can be configured to write to a text file for historical data
Tonnage Hard Hit signatures are automatically stored on the PC
Double action tonnage information
*Initial ZTSLM-4 configuration requires Slimware software
PLC Signature Tonnage Kit Diagram: