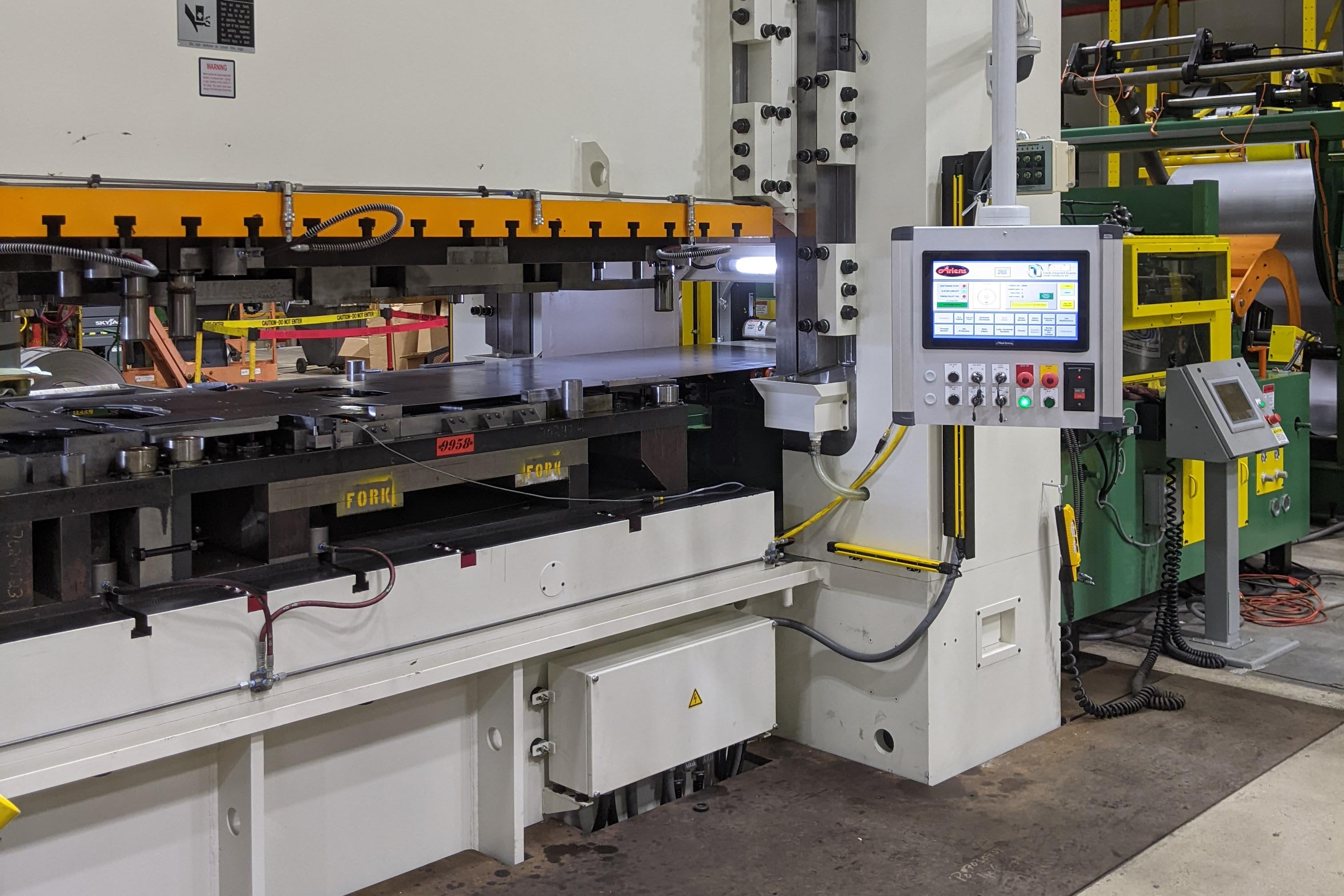 Toledo Integrated Systems has been providing solutions to the metal forming industry for over 30 years.
In that time we have worked with various hardware platforms including PLC5, SLC, MicroLogix, CompactLogix and ControlLogix. Our Maximizer TPC has many standard control and automation features but allows for easy customization and expandability.
The Max TPC is built to order with all the functionality and integration that the customer requires. This gives the customer complete control of the equipment using standard "off-the-shelf" hardware. The HMI is also selectable. Along with the standard offerings for the HMI, we are capable of providing an industrial PC or a screen from a different vendor (if you have standardized on a certain screen).
Below is a list of the standard features and options for the Max TPC. The options don't stop there. The true advantage with a PLC system is that it can be expanded and customized to the customer's exact needs.
All supplied controls comply with OSHA, ANSI and CSA Z142-02 regulations for mechanical stamping presses.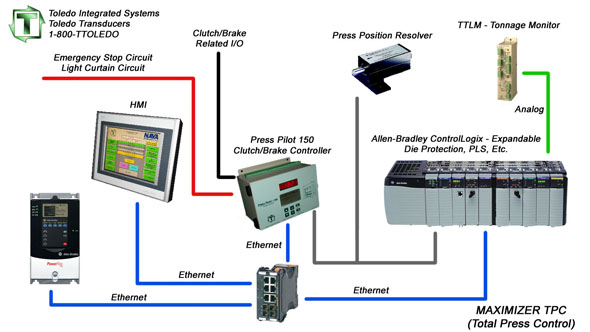 Press Control Features:
Dual processor w/watchdog circuit Anti-tie down protection Anti-repeat protection Dual channel monitored E-stop circuit Protected memory (each processor) Off, inch, single & continuous modes Clutch & counterbalance air pressure monitoring Press position verified each cycle Speed compensated top-stop Top stop overrun protection Uncommanded motion & drift detection Clutch valve fault monitor input 120 VAC or 24VDC E-stop circuit Light curtain interlocks
Standard Hydraulic TPC features and options:
Protected memory (each processor)
Anti-tie down protection
Anti-repeat protection
Single and double action modes
Input status diagnostics
Monitored force guided relays for safety related outputs
Dual channel monitored E-stop safety circuit
Inputs for two operators
Fault & prompt messaging
Light curtain & guard interlocks
Pressure monitoring
Oil temperature display
Lube system control & monitoring
Hydraulic pumps control & monitoring
Leveling and IMC interface I/O & Logic
Press position (linear transducer)
Press SPM display
50 job storage
8 die protection stations
8 programmable limit switches
2 or 4 channel tonnage monitoring
Counters (part, stroke and batch)
Return from position (tonnage)
Online help menus
Multi-level password protection
Enclosure air conditioner