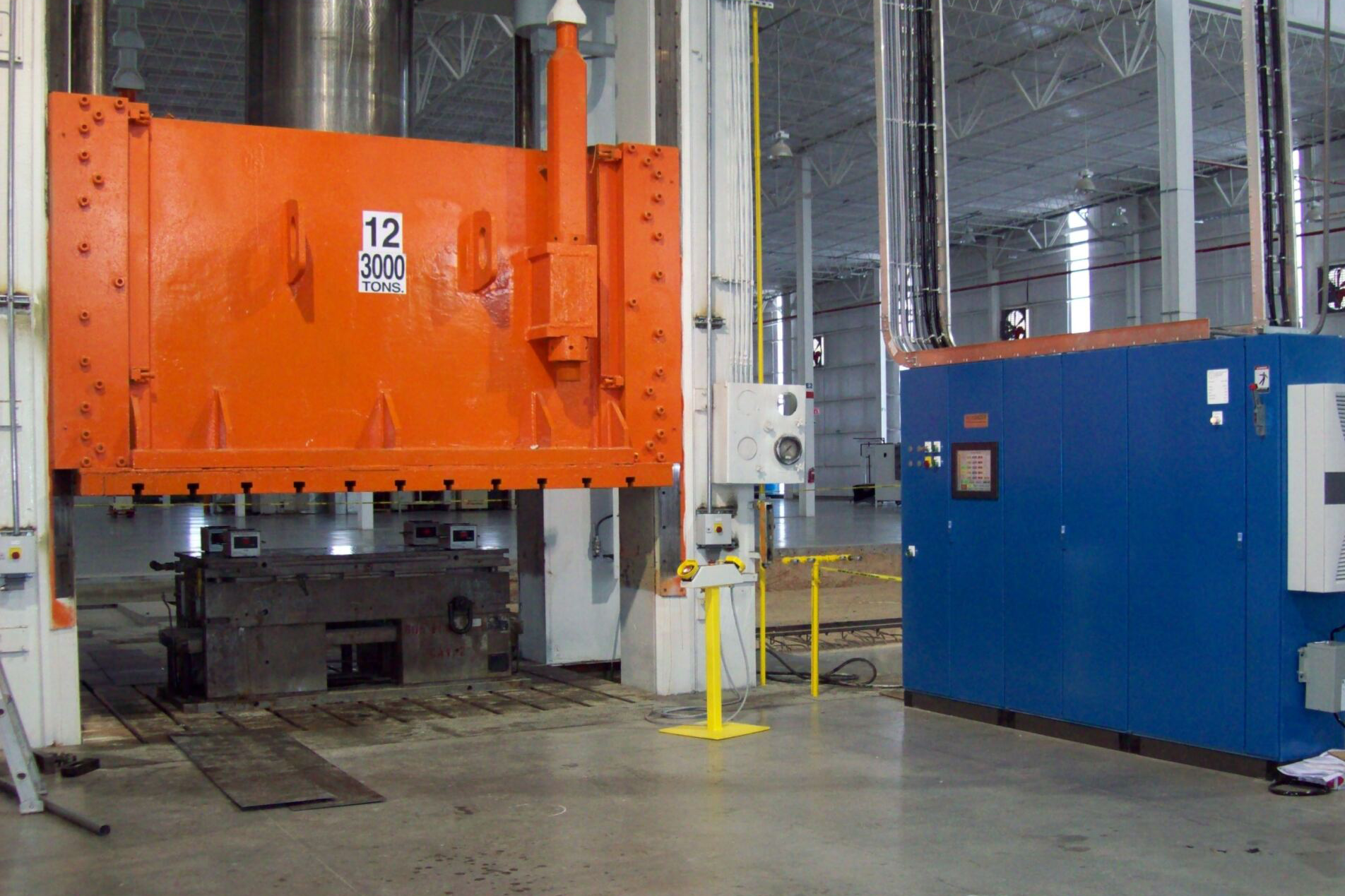 Toledo Integrated Systems has successfully integrated numerous hydraulic press controls throughout North America.
A hydraulic press is a complex machine which can be overwhelming for an operator or integrator who is not familiar with the hydraulic system. While a bit intimidating at first, the benefits of a hydraulic press can overshadow the cons dramatically.
Toledo Integrated Systems is able to provide you with the knowledge and experience that you're looking for in a company to update your existing hydraulic press controls.
Along with the basic PLC and HMI design, engineering and integration, we're also able to offer custom integration ranging from press interlocks to interfacing with other parts of the hydraulic press line such as the feeder or transfer systems.

Below is a general list of what can be included with our hydraulic press control solution. As with many of our products and services, each package can be custom designed and integrated to fit your needs.
The hydraulic solution can include:
PLC (Customer Spec, All Required I/O)
Proportional Valves (If Required)
Pressure Transducers
Motors or Solenoids
HMI (Customer Spec)
Operator Enclosure (NEMA Rated)
All Required Pushbuttons, Select Switches & Pilot Lights (Allen-Bradley unless customer spec)

Mode Selector Switch
Continuous Arm Push-Button
Top-Stop Push-Button
Emergency Stop Push/Pull Button

Linear Transducer
Documentation (Manual & Electrical Schematics)
Standard Hydraulic TPC features and options:
Protected memory (each processor)
Anti-tie down protection
Anti-repeat protection
Single and double action modes
Input status diagnostics
Monitored force guided relays for safety related outputs
Dual channel monitored E-stop safety circuit
Inputs for two operators
Fault & prompt messaging
Light curtain & guard interlocks
Pressure monitoring
Oil temperature display
Lube system control & monitoring
Hydraulic pumps control & monitoring
Leveling and IMC interface I/O & Logic
Press position (linear transducer)
Press SPM display
50 job storage
8 die protection stations
8 programmable limit switches
2 or 4 channel tonnage monitoring
Counters (part, stroke and batch)
Return from position (tonnage)
Online help menus
Multi-level password protection
Enclosure air conditioner