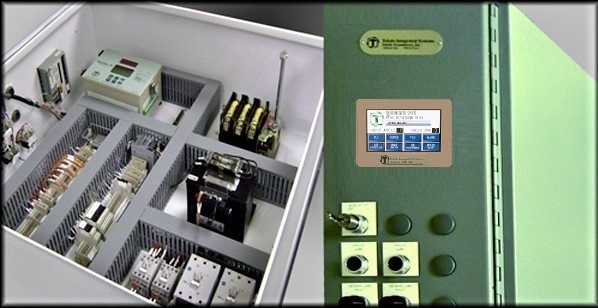 Toledo Integrated Systems offers a press control and basic automation package with the DPPlus TPC.
This package is an economical choice to use when you update the press safeties and require a minimal amount of automation (die protection, programmable limit switches, tonnage monitoring, etc.).
This package meets and exceeds OSHA, ANSI and CSA standards.
As with all Toledo Integrated Products, our Basic Press Control is engineered and manufactured in the United States in Holland, Ohio.
 
Standard
Option
Dual processor w/watchdog circuit
✓
 
Anti-tie down protection
✓
 
Anti-repeat protection
✓
 
Dual channel monitored E-stop circuit
✓
 
Protected memory (each processor)
✓
 
Off, inch, single & continuous modes
✓
 
Clutch & counterbalance air pressure
  monitoring
✓
 
Press position verified each cycle
✓
 
Speed compensated top-stop
✓
 
Top stop overrun protection
✓
 
Uncommand motion & drift detection
✓
 
Clutch valve fault monitor input
✓
 
120 VAC or 24VDC E-stop circuit
✓
 
Light curtain interlocks
✓
 
 
Standard
Option
Eight (8) die protection inputs (NPN)
✓
 
Three (3) dedicated outputs
  (programmable)
✓
 
Eight (8) programmable limit switches
✓
 
Individual window settings for all DP
  inputs and PLS outputs
✓
 
Mechanical PLS relays - SPDT
✓
 
Batch, part & stroke counters
✓
 
One hundred (100) job storage/recipes
✓
 
Individual alpha/numeric names for DP,
  PLS and job storage
✓
 
PLS speed compensation
✓
 
Alarm history (FIFO)
✓
 
Motion detection
✓
 
90° Brake monitor test
✓
 
"No Motion Fault" fault
✓
 
24VDC Power supply included
✓
 
Color touchscreen (4.3")
✓
 
Color touchscreen (7")
 
✓
Color touchscreen (10")
 
✓
Press angle & SPM
✓
 
90° Brake monitor fault
✓
 
Coil change mode
✓
 
Copy/duplicate job settings to new job
✓
 
Jobs back up on USB drive
✓
 
Remote reset push button input
✓
 
Time based brake monitor
✓
 
90° Stop test
✓
 
Encoder based (360 degrees @ 1° res.)
✓
 
3 Password levels
✓
 
NEMA enclosure
 
✓
Motor controls
 
✓
2 or 4 Channel Tonnage Monitoring
 
✓
Type
Name
Description
Link
Standard Product
1662 Encoder
Press Position Encoder
Standard Product
Standard interface box
Standard die sensor interface
  box
Standard Product
Universal sensor interface box
Universal die sensor interface
  box
Standard Product
Prox Kit
Verify position with a prox kit
Inquire
Standard Product
Run Bar
Operator run bar
Inquire
Standard Product
Run Stand
Mounting the run bar
Inquire
Standard Product
Foot Switch
Operator foot switch
Inquire
Standard Product
Safety Valves
Herion or Ross safety valves
Inquire
Standard Product
Pressure Switches
Pressure switches
Inquire
Service
Installation
Control & Automation Package
  Installation